Thermwood offers systems ideally suited for the production, fabrication and trimming of composites. These applications range from machining patterns and molds to trimming and machining production products. Thermwood offers three and five axis systems capable of machining small and large parts in a single setup.
Thermwood machines use engineered structures designed using the most advanced CAD/CAM and structural  analysis. All weldments are fully stress relieved and the final machine is laser calibrated to assure accuracy, including three-dimensional volumetric compensation, a feature not available from other systems in this market.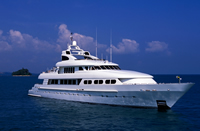 Thermwood CNC routers utilize an advanced next generation CNC control with valuable features not available anywhere else; features that have a significant impact on productivity, throughput and profit. For example, Thermwood's system can rotate and translate a CNC program to match the mounted position of large, heavy parts and fixtures rather than requiring that the fixtures be precisely positioned. It can store and seamlessly execute massive CAD generated programs, which are common in this application but can choke lesser systems, making it ideal for this demanding task.
Thermwood offers total solutions including the machines, support equipment, training, software and ongoing service and assistance. Thermwood also offers custom programming and production assistance for composite manufacturers.