Overview
QuickCut is available on all Thermwood CabinetShop series machines and offers the fastest, easiest and simplest possible way to make custom cabinets. Everything is done right at the machine. You don't need separate computers, design software, networks or anything else other than the machine.
---

Easy to Use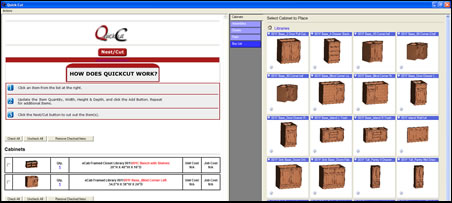 At the machine control, you simply select the cabinet or cabinets you want from a library, adjust the size and cut them. That's all there is to it.
The system automatically handles everything else. It prints a nest diagram showing the location of each part in the nest. It also prints a label for each part. The label has a color code, making it easier to separate parts into individual cabinets. Red parts are one cabinet, green parts another, blue parts another and so forth. On large jobs this cuts sorting time in half.
---

Easy to Assemble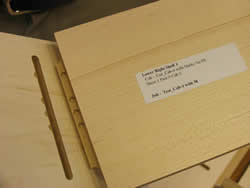 The system also machines assembly marks into the joints of each cabinet making assembly easier. Put parts with one dot together; put parts with two dots together, etc.On complex cabinets this cuts assembly time more than in half. Marks are completely hidden after assembly.
The system even prints a list of door sizes needed for the cabinets you built as well as a list of hardware and components you need to buy.
If you need cabinets in the library modified or if you need additional items added, Thermwood offers a low cost programming service. In addition, any of the thousands of experienced eCabinet Systems user can also do this for you and if you want to wade into cabinet design yourself, you can get a free copy of eCabinet Systems and adjust libraries yourself.
---
"Making nested based custom cabinets just doesn't get any easier"
---