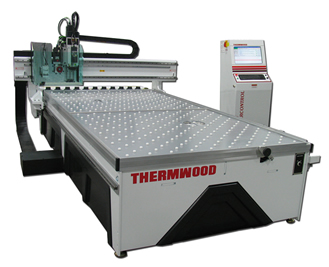 CNC routing is opening new, exciting and potentially very profitable opportunities in the sign making industry, but CNC routing is a specialty, not something you just add to traditional light-duty sign trimming machines. Thermwood, a world leader in CNC routers, offers CNC router packages tailored specifically to cutting and trimming printed graphic signs on rigid substrates as well as machining and carving three dimensional signs and letters. Thermwood's systems are robust, highly flexible production systems capable of operating 24 hours a day, seven days a week. They are fast and accurate with a highly advanced CNC control offering features, support and capabilities not available anywhere else.
These highly capable systems are available with I-Cut

to accurately trim printed signs, automatically compensating for distortion or rotation in the printed image. Three-dimensional software packages are available to design and cut three dimensional carved signs and letters from a variety of materials including wood, MDF, chipcore, rigid foam, plastic, acrylic and non-ferrous metals. With Thermwood you have true CNC routing capability.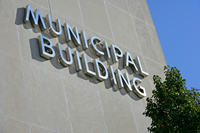 Thermwood machines use engineered structures designed using the most advanced CAD/CAM and structural analysis. All weldments are fully stress relieved and the final machine is laser calibrated to assure accuracy, including three-dimensional volumetric compensation, a feature not available from other systems in this market.
Thermwood offers total solutions including the machines, support equipment, training, software and ongoing assistance.
Click Here to download the SignRouter 43 Brochure in Adobe .pdf format.
Click Here to download the SignRouter 43 Flyer in Adobe .pdf format.