Thermwood, an industry leader in nested based manufacturing, offers software and systems to efficiently design and build custom cabinets and furniture. Thermwood supplies the industry with advanced cabinet design software, called eCabinet Systems, free of charge to professional cabinet shops and cabinet manufacturers. This widely used software outputs to panel saws, automated cut-off saws and Thermwood CNC routers.
Thermwood CNC routers utilize an advanced next generation CNC control and advanced networked, intelligent servo drives, a combination that offers valuable features, available from no one else, that have a significant impact on productivity, throughput and profit. For example, the control can combine programs from a variety of popular design software in different formats and nest them in a single job automatically creating the CNC program needed to machine all the parts.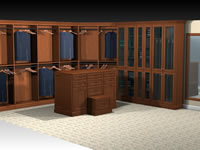 Thermwood machines use engineered structures designed using the most advanced CAD/CAM and structural analysis. All weldments are fully stress relieved and the final machine is laser calibrated to assure accuracy, including three-dimensional volumetric compensation, a feature not available from other systems in this market.
Thermwood offers its eCabinet Systems nested based customers free access to a Production Sharing Network where they can sell excess capacity to thousands of eCabinet Systems shops, further increasing payback and profit.
Thermwood offers total nested based solutions including the machines, support equipment, training, software and ongoing assistance.