Our History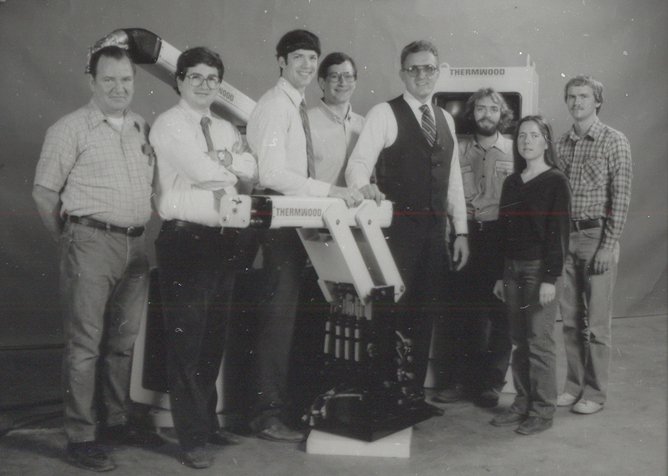 Thermwood was established almost fifty years ago around an innovative approach to molding plastic wood grained parts for the furniture industry. At the time, elaborately carved Spanish and Mediterranean furniture was being produced by the industry using molded plastic parts. Thermwood developed a thermoforming molding process that reduced part cycle time from one and a half to two minutes to less than five seconds using tools that cost 90% less.
As you might imagine, it was highly successful with Thermwood processing millions of pounds of polymer material through multiple large extrusion based sheet lines. Their operation was highly automated with much of the equipment designed and built at Thermwood resulting in a production labor cost of less than 4%. Thermwood was also a pioneer in computer sheet thickness control using mini computers.

Then an oil embargo in the early seventies cut off their oil based polymer material supply and their customers pretty well abandoned plastic in favor of new wood based furniture designs.
New markets required complex trimming in addition to molding so Thermwood began searching for an automated way to trim. None were available but they believed that microprocessors, which were first being introduced at the time, could be used to move a machine and trim parts. The resulting major development effort resulted in the first commercially available CNC control in the world. The machine that this control was installed on was the very first CNC router.
The machine was successful in trimming molded plastic parts but Thermwood soon realized that there could be a market for not only their plastic parts but also for the CNC router they developed. They continued to develop and refine these technologies until today, Thermwood builds some of the most capable machines and controls available anywhere. Much of the core CNC control and CNC router technology that exists today originated at Thermwood.
As part of these developments, Thermwood became deeply involved in the development of software for the design of kitchen cabinets. The result was true third generation CAD/CAM. In first generation, the programmer defines the machine motions desired and the software creates code to generate those motions. In second generation, which is the most common today, the programmer designs the part they want and the software determines the motions needed to make that part and programs those motions. In third generation, the programmer simply defines the finished product they want and the software determines the parts needed to make that product, nests those parts on sheets of material, determines the motions needed to make those parts and programs those motions.
The latest advance puts that software inside the machine control and, using a type of artificial intelligence, teaches the control how to run the machine. The result of this effort is a system that can be operated by virtually anyone with no programming and little training. Just tell the machine what you want and it guides you through the process of making it.
The latest product advances are centered on the emerging technology around additive manufacturing (3D Printing) of very large composite parts. Thermwood was introduced to additive and soon realized that they were the ideal company to address this potentially revolutionary area.
They were experienced with polymers and the extrusion process, they built both large machines and advanced controls and could modify each as needed and they were experienced with the development and refinement of design software.
At that time, the only large scale additive manufacturing efforts were the result of a government, Department of Energy funded effort. That effort was attempting to take existing small scale additive technology and simply scale it up for larger parts. Difficulties were encountered. Thermwood took a different approach. They started with a large machine and large extruder which necessitated a whole different approach to the process. Over a two year period the process was developed and refined.
It worked well, resulting in the ability to 3D print and trim very large parts, typically molds, tooling, fixtures and patterns, which were acceptable to major industrial customers. Thermwood has enjoyed strong initial success with this product and expects it to dramatically enhance the future.
Facilities
Thermwood corporate headquarters are located in the Southern Indiana town of Dale, just off Interstate 64 about half way between Evansville, Indiana and Louisville, Kentucky. Our main facility consists of 175,000 square feet which includes both an office/showroom and an engineering and manufacturing plant.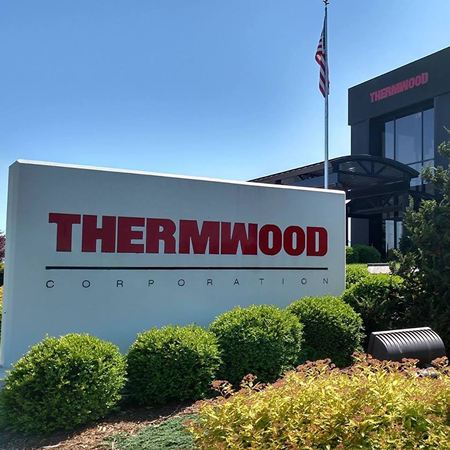 The Office/Showroom is a two story office building that consists of executive offices, high-tech formal training classrooms, dining rooms, meeting and conference rooms and a combination showroom and customer demonstration facility. This building also houses Thermwood's IT center which includes extensive web servers and worldwide corporate network hardware.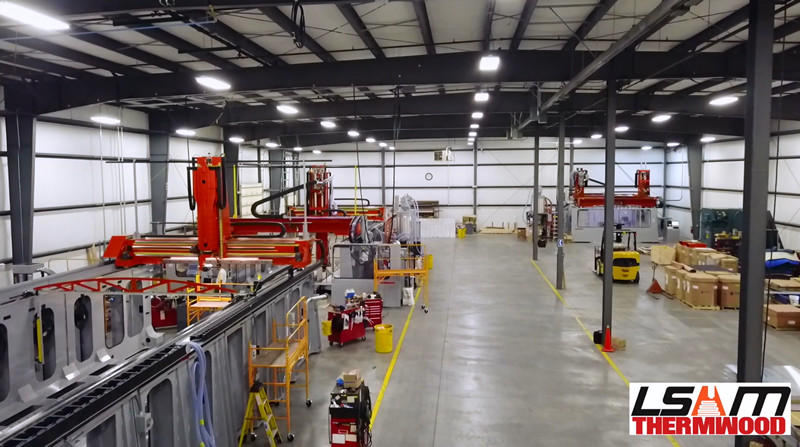 The modern manufacturing facility houses various industrial processes from steel cutting, bending, forming and welding to electronic board assembly and CNC control manufacturing. Thermwood builds the vast majority of every system in-house and uses a variety of advanced manufacturing techniques including finite element analysis, vibration stress relief and three-dimensional laser interferometer calibration. Every process is controlled using highly integrated manufacturing software and the factory runs virtually "paperless". In addition to manufacturing processes, the main plant also houses design engineering, customer support and technical service including the "virtual service" link centers.
Virtual Tour of Thermwood